BINUSIAN
BINUSIAN refers to BINA NUSANTARA community which consist of the whole academic community (civitas academica) at BINA NUSANTARA, including all those who contribute in some way, through managing or attending parts of the education and training process. They have a solid vision, become innovative in their fields, and keep one step ahead in Science and Technology, mainly when based on Information Technology.
BINUSIAN aims to be a part of the visionary community, as well as to be accepted as a leader in Information Technology (IT). BINUS UNIVERSITY prepares each BINUSIAN to be successful professional or entrepreneur through Multi-Channel Learning (MCL) Method, independent learning and IT media, core competence and clear pathway in various study programs, and character building program. To achieve the BINUSIAN's aim, BINUS UNIVERSITY will always increase its quality as an education provider. To implement such standard, BINUS UNIVERSITY is supported by innovative, flexible and on-time lecturing program and high qualified lecturers.
BINUSIAN Mascot: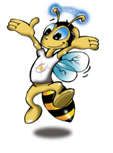 Meaning of BINUSIAN Mascot:
Why Bee?
A bee is a hard-working insect, also known for its diligence, and loyalty to its community.
A bee is highly creative and talented, as this is seen from its unusual geometric beehive.
A bee produces something that is useful for itself and others (honey), by getting the flowers pollen without destroying it, also helping its pollination.
A bee's ability to fly proves that a bee is highly flexible and mobile.
Human Features
By having the shape and movement of a human, the mascot represents the character of a BINUSIAN with the qualities of a bee.
The simplification of a bee's shape has been made to make it more friendly and intelligent.
Luminescent Antenna
The function of the antenna is to improve the bee's awareness of its surroundings and to improve its navigation system to guide its high mobility. In this mascot, the luminescent effect of the antenna is to illustrate the ability to absorb information and knowledge (and to distinguish this mascot from an ordinary bee).
Mascot colour is similar to BINUS colour
Yellow and Black are the distinctive colours of a bee which are also the colours of BINUS.